Happy What I Ate Wednesday. I have a special selection of fabulous eats to share with you. This is another sneak peek at my upcoming blog post about my recent trip =)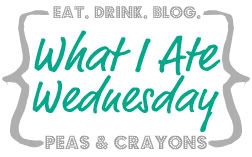 Breakfast started out at a nice café where we enjoyed our breakfast on the sunny outdoor patio:
I didn't eat all of this haha! Terry ordered the sushi and I ordered the crêpes and we split our dishes. Everything was raw, vegan, organic and gluten-free. And it was divine!
I thought breakfast would be a tough act to follow, but not so, as lunch was equally delicious:
Um… I didn't end up share this one ;p Way too good to share. I have to admit, it was not gluten-free. And the restaurant had plenty of gluten-free options… but this looked so good and it came highly recommended by the waiter. YUM.
I was way too stuffed for dessert, so sadly we left sans sweets. But I stumbled upon this just in time for an afternoon snack:
Hmmm, as I post this, I'm thinking that this is not a very flattering picture of me. But, we're talking cupcakes people! I couldn't pause long enough to get a better picture. Again, not gluten-free, but it was  vegan and mighty tasty!
And dinner sure hit the spot. I had high hopes of hitting up a certain vegan restaurant during our vacation and we managed to fit it in.
It has been so long since I've had meat that I took a bite and it tasted so eerily close to chicken that I had to have Terry take a bite and make sure it wasn't. He was more than happy to oblige.
I did manage to have room for dessert after this too…
The picture doesn't do it justice, but I'm not particularly patient when it comes to my dessert.
This is most definitely not a typical day of eats by any means, but I was on vacation, I am at peace with indulging. Besides, we ended up biking everywhere to have more fun and save money on a car rental. And it looks like we biked a total of 13 miles during the day. And it was a 3.5 mile walk to dinner.
The cupcake was pretty amazing, but I think my favourite part of the day was biking everywhere =)