Bonjour! And welcome to my 6th What I Ate Wednesday post.
I saw so many great recipes over the past week that I had to try some of them out and Sunday was the perfect day to do so!
I love making a good breakfast to start the day off on the right foot as it gives me fuel for the day. What better way to start Sunday then with pancakes??? I had long ago given up on pancakes. They are generally not gluten-free. And the few recipes I tried have *not* turned out. And as I don't like buying mixes with all of the "extra" ingredients, I usually just go without.
But the lovely Rachel of Almonds & Avocados posted an amazing gluten-free recipe and they turned out amazing! It was a perfect serving for two people (makes 6 medium-sized pancakes)… well, my husband wanted more, I will take that as a good sign =)
I set the table nicely with pancake fixins (cashew butter, *real* maple syrup – not that Aunt Jemima crap and some home-made apple butter from the market). It was nice with some fresh fruit.
You can find the recipe here: http://almondsandavocados.com/banana-bread-oat-pancakes-gluten-free-vegan/. I just put some Bob's Red Mill gluten-free oats in the food processor and it turned out well. I unfortunately only had about half a cup, so I had to use half a cup of all purpose gluten-free flour, but it worked. I'd like to try these again with just oats.
This kept us full until lunch. We are in the midst of booking a fun little weekend getaway to Santa Monica (vegan paradise!) and my husband looked up from our itinerary and asked what the lunch plan was. It was 1pm! So I quickly threw this salad together. You can find  the recipe at the bottom of the post as it was amazing and super easy to put together.
Terry again asked for seconds… which sadly there were none of. I did have these little puppies stowed in the freezer though. I had a friend come over for dinner Friday and was scratching my head trying to think of a fun dessert recipe to make that I hadn't made before that was also chocolate free. I looked through my to-make recipes and came across Gabby's Raw Maple Walnut Cups. YUM.
You can find Gabby of the VeggieNook's recipe here: http://veggienook.com/2012/07/01/canada-day-almost-raw-maple-walnut-cups/
I had to make a few substitutions like pecans for walnuts, which tend to work interchangeably for me. I actually switched the almond milk for coconut milk to give it a bit of a different flavour. I also had to use chopped almonds and blackberries on top as I had finished off the pecans and had no strawberries… But they were pretty raw-tastic! And yep – I ate both of these =)
And dinner was inspired by Carrie from CarrieOnVegan. She had recently made baked beans out of pinto beans, something I had never tried before and they were super tasty!
You can find her recipe here: http://www.carrieonvegan.com/2013/01/11/bbq-baked-beans-healthy-vegan-friday-host-open-call/. I had only cooked enough beans to make just over half of this recipe… which should have been enough for leftovers, but we basically ended up licking the bowl clean ;p I didn't have molasses and used maple syrup, I thought it would be weird, but I'm Canadian so of course it worked!
The above-mentioned recipes have come from three of my favourite blogs. If you haven't checked them out already, I highly recommend you do, as they all regularly have delicious recipes.
Spring is in the Air Salad (titled as this weekend was so beautiful and people are already starting to plant their flowers!)
a few generous handfulls of mixed greens
2 generous handfuls of sprouts
1 generous handful of cilantro
1 generous handful of cherry tomatoes (heirloom if you can get your hands on them, it makes it prettier), quartered or halved
1 large (or 2 small) ripe avocados, pitted & chopped
1 large persian cucumber, sliced  into rounds, then halved
1/4 of an onion, diced (red would be nice, but I only had white)
1 clove of garlic, minced
1 handful of raw sunflower seeds
Dressing
olive oil and balsamic vinegar with a sprinkling of sea salt and pepper (I didn't measure it out, I just poured a bit of each in, I'm lucky that this works for me – it's probably a couple of tbsp of each)
Wash & spin the lettuce in a salad spinner, add everything into a big bowl, add the dressing and mix it all together.
This recipe has been linked up to Healthy Vegan Fridays
And Gluten-Free Fridays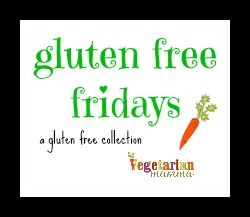 Hope 'ya'all are having a great week so far!