Well good morning and a Happy Wednesday to you all!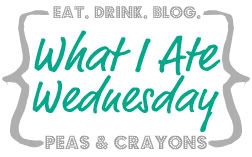 I was feeling
very
a wee bit guilty after having over-indulged on the weekend. Overall, I have to say it wasn't too bad, but I ate more junk type food than I had intended. Ah well. Back on track! And the day started off well enough:
When we lived in Canada, we really enjoyed a cereal called "Holy Crap". We haven't been able to find it here, so my mom sent some to Terry for his birthday and a different brand that is similar to try out.
It is very tasty! And apparently we should be able to find it here. It's made mostly of chia seeeds and buckwheat, but it had a fantastic ginger flavour to it. After eating it, I noticed it also has some evaporated cane juice though, which I generally avoid. Ah well.
My lunch plans were foiled by my dentist. I had been looking forward to some veggies & hummus, but I had to have some work done on my mouth yesterday and was on a strict ice cream only lunch. I wandered down the frozen food aisle at Whole Foods and looked at the So Delicious tubs. They were actually on sale! But I walked slowly away and decided to just make some of my own.
This is just frozen banana and 1/2 of an avocado with some almond milk, coconut water, chocolate vega powder, pecan butter and a couple of dates. It was pretty tasty.
I'm pretty sure I had a lara bar at some point too as the small breakfast and lunch of ice cream didn't quite tide me over.
I had grand plans of making a great salad for dinner… but I am a huge baby when it comes to getting dental work done. The dentist assured me mouth wouldn't hurt and that was a big fat lie. So we tried out a new pizza place. I don't remember the last time we ordered pizza. We used to order it once a week (several years ago), then it went down to once a month and now it's hardly ever. The new place has very tasty pizza. It was gluten-free and vegan. The only problem is, they said they would deliver, and then called once the pizza was ready to say they made a mistake and we'd have to come get it. Then they didn't quite get the toppings correct. They forgot to take the delivery charge off of our order (my hubby noticed in time fortunately). But the pizza was just so good, we may try them out again and give them a second chance.
Have a great rest of the week!