Happy Wednesday lovelies!
I hope you all had a wonderful weekend and guess what? You're halfway to another one. To my Southwestern Ontario peeps, I am wishing & willing some warm weather your way. For my Cali peeps – enjoy the glorious weather we have been getting, we are very fortunate =)
I've been starting out the days with a warm glass of water with fresh lemon juice in it to get my digestive system on track for the day. And after having more water, I had a nice big bowl of gorgeous fruit. Look what I found at the market this past weekend! The first of the cherries are here: 
I spent the entire day catching up on laundry, cleaning and tidying the house after my mom-in-law left (fantastic visit by the way! we miss her already), so I didn't feel like putting a whole lot of energy into my lunch:
And well… after a bit of indulging during the visit, I was craving some fresh, clean food. So I threw these nori wraps together. Recipe to come soon (probably Friday). It's all about quick & easy! I had an apple with it too.
My snack was some homemade crawckers and raw cashew butter.
More cleaning ensued in the afternoon and it was a particularly warm day, I had no interest in cooking anything. So I made gazpacho and it was dee-li-cious!
Thanks to Jenn over at Peas & Crayons for hosting!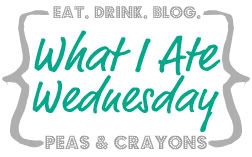 Feels good to have a light & clean day =) I'm also working towards cleaning the clutter in my mind and concentrating on more positive & affirming thoughts. I would like to try meditating… I've never really been much for it, but I know it's good for the mind, body & spirit so I'd like to give it a go.
Speaking of positivity, I wanted to share with you a couple of blogs I'm loving lately that are helping me live in the present and be a happier & lighter person. Check 'em out:
The Raw Food Sisters – beautiful girls inside & out who give me my daily dose of positive affirmations and they have great raw recipes to boot!
Chemo Blog – I am a lucky girl to have had the chance to meet Jordan in December and we hit it off and exchanged blog info. He is hands down the most positive person I have ever met. His posts help me keep on track with my goals and just be grateful for life in general =)